EXCLUSIVE USA DISTRIBUTOR
Cole Gunsmithing is the exclusive U.S. distributor for TSK stocks. We ARE  TSK USA.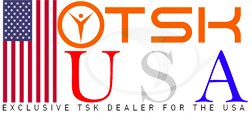 This fully adjustable stock system is available for your Beretta, Perazzi, Krieghoff, Blaser, Caesar Guerini, Zoli or Browning shotgun, with more brands added as the demand presents. Available in standard or recoil reducing, this system fully adjusts for LOP, drop at face, drop at heel, cast, pitch and rotation of pad.  Different grip sizes, right and left hand and custom grips are available. The components are available  in a variety of colors and finishes.
START TODAY
TSK Configurator
DESIGN YOUR OWN TSK STOCK
Cole's exclusive TSK configurator will help guide you as you build the TSK of your dreams!
THE FULLY ADJUSTABLE SHOTGUN STOCK
Headquartered in Torrebelvicino, Italy, TSK manufactures high-quality, fully adjustable stocks used by shooters of all skill levels to help them achieve the perfect fit. Whether you're an enthusiast of Skeet, Sporting Clays or Trap shooting, a TSK stock will help you get the right fit. TSK machines all of their parts from high-quality materials. Everything from the Heli-Coil insert stainless steel screws, beautiful walnut combs and grips and the solid, high-strength light alloys that make up the pipes. TSK stocks are made for the competitive and hobbyist shooter that understands that fit is everything. No matter what shotgun the shooter chooses, if the gun does not fit, it will not allow them to reach their highest potential.
TSK Stocks, being adjustable and modular, allow the shooter to customize it to their liking, with multiple color options for pipes, plates, combs, pads, and bridges. Adjustments include length of pull, drop dimensions, grip size, cast and pitch. Not only can you achieve the perfect fit but also the right look that matches your personality.
All models are offered in left-hand or right-hand orientation, glove grip, standard pistol grip as well as custom molded grips.
All TSK stock variants have varying levels of adjustability with one single difference between them, that being that the RR units also reduce the recoil from 10%-15%.
To start the process, you will first choose the model gun you are planning on installing the TSK. You will then select what version stock you like and then choose the components to round out the final options on your TSK.
Using our TSK Configurator you can mix and match the different components to help achieve the perfect fit. The configurator has limitations and is only meant to provide a rough idea of the appearance.
Once you are set on a model and look for you TSK, you will then reach out to our shop to discuss the specifics with a member of our sales team, who will guide you on providing your hand measurements to ensure that you are matched up with the appropriately sized grip for your TSK as well as the steps needed to ship your firearm to us to have the TSK unit fit to your gun.