The shooter and the gun should be a perfect fit – literally. Everybody's measurements are different – different lengths, different proportions, different preferences. The stock that comes with a shotgun you purchase, was shaped, and created based off a large average of measurements to the human body. With shooting becoming a sport for all ages, gender, sizes, etc. – that becomes a lot of different bodies to fit. The TSK becomes the solution.
TSK Fully Adjustable Stock allows for the fit of your guns stock to be perfect, over and over and over again. The TSK is fit with an Adjustable Comb, allowing for the shooter to adjust it side-to-side, up and down, or tilt it – creating a more parallel stock. The Avional or Carbon Fiber Pipes allow for the length of pull to be a range rather than a fixed number. The TSK unit is best used for Trap, Skeet/Sporting, or Double Trap.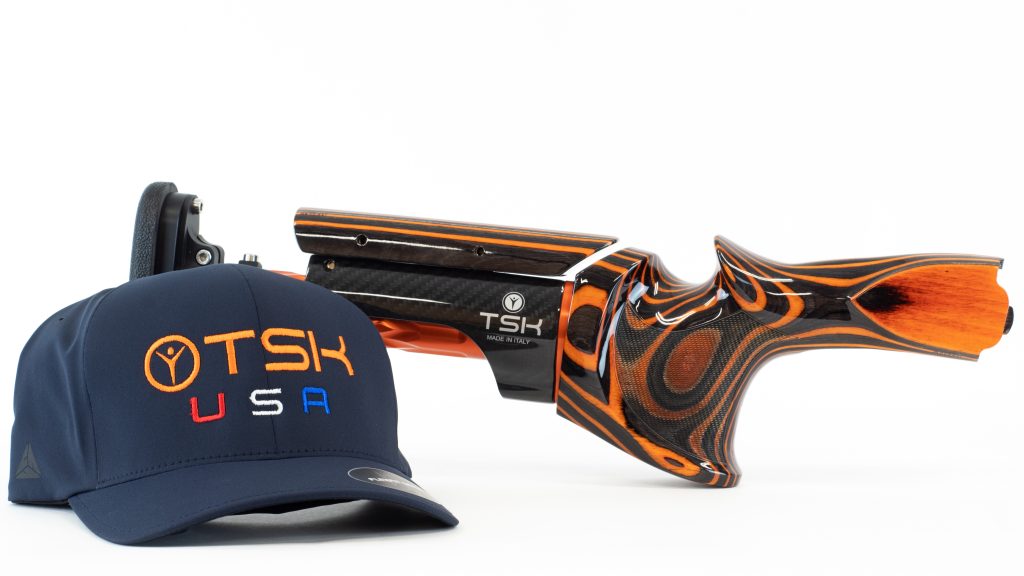 Not only does the TSK Fully Adjustable Stock allow for higher performance and a better fit – it can give you a better look. There are plenty of options of colors, styles, & materials – something for everyone.
Designing Your Unit
First, decide on the model of adjustable stock – there are a few different types to fit the needs of every majority. One of our salesmen specializes in TSK Units and can assist you in picking out the perfect type for you – contact our Naples location and ask for Pedro! You can also begin to build your own unit on our website!
Then to choose is the length, type, and color of the TSK pipe. The Carbon Fiber Pipe is unique with no coloring, creating a different look. The Avional Pipes come in a variety of colors to help you stand out on the team or on the field. The sizes of the pipes base off the LOP goal – there are 4 sized in total.
Super Short (120MM) LOP: 12 7/8" to 14"
Short (140MM) LOP: 14" to 15"
Medium (160MM) LOP: 15" to 16"
Long (180MM) LOP: 16" to 17"
The bridge covers the pipe and structures the entire TSK Fully Adjustable Stock, and the options can vary based off the model of TSK you choose. It comes in a few different colors to best compliment the look on your shotgun, the metal type in the receiver, and other portions of the TSK.

There is a number of options for materials and colors for the Adjustable Comb. Uniquely, they designed varying amounts of wood combs at different heights, with a few bound in leather for a smoother, more refined look. There is also a wooden comb featuring  a rubber padding.
Lastly, there are various types of recoil pads to fit to the end of your TSK. Different styles to fit different looks. There is a selection of Microcell Pads – but also resin and wooden pads to change it up.
TSK-Friendly Gun Models
Beretta
A400
682, 686, 692, 694
DT10, DT11, ASE
Blaser
Browning
Caesar Guerini
Krieghoff
Perazzi
Zoli
Call us today to begin designing your TSK Unit!