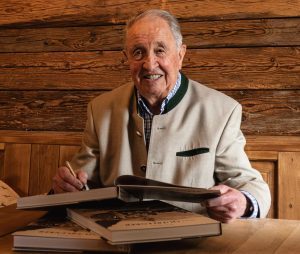 Blaser was founded in 1957 by Horst Blaser. Horst was born in Isny im Allgäu , Germany, grew up driving a milk truck owned by his father. Horst was happy as a milk truck driver, however the father of his soon-to-be bride was dissatisfied with the profession, and forced him to go into gunsmithing before the wedding could go through.
Blaser took to the gun world with a new eye than the rest. Horsts' first impression of the weaponry is the sizeable impact of the heavy weight to the accuracy of the shot.
His first goal set was to lighten the overall weight of the gun. Another observation noted by Blaser was the lack of safety precaution on the weapon. Blaser went on to create 6 patents in the span of 4 years, improving safety and efficiency of every gun created after that. In the 6 patents, they included patents for a cartridge ejection device and the safety.
Patent 1: Break-open firearm with readily exchangeable firing pin, 1991
Patent 2: Cartridge ejection device, 1992
Patent 3: Resettable breechblock wedges in a break-open firearm with top lever breech block, 1992
Patent 4: Removable firearm lock, 1994, 1995 (2 versions)
Patent 5: Shooting arms with a safety device, 1995
Blaser prides itself in the use of their highly tempered steel, light-metal alloys & walnut wood of various grades. They also use a team of high-skilled gunsmiths, stock-makers, and engravers to make the weapon complete. A large part of Blaser's appeal is their attention to detail, primarily in their engravings – which can feature different sets of intricate designs and animals, such as hunting dogs and detailed game scenes.
Blaser are mostly known for their rifles and their shotguns. However, they are continuing to advance new optics technology as well, with a wide range of products. All materials used by Blaser are also outsourced out of one location, to ensure for uniformity in look and use for each of their products.
Blaser Group combines Blaser, Mauser, and Sauer brands to bring them overseas to the USA. The Blaser Group was founded in 2006 and created a base in San Antonio, Texas. Blaser ensures complete satisfaction and ensures their products are fit to distribute multiple times. All Blaser products are quality-checked when leaving the factory in Germany, then checked again by the Blaser group in the US after arrival and before final distribution.
The group now works with over 400 Blaser Group dealers across the US, Cole Gunsmithing included. Cole Guns and Gunsmithing offers a variety of Blaser products, including a model fit with a TSK – a fully-adjustable stock style.